Coffin Sliding Pop-UP Card Tutorial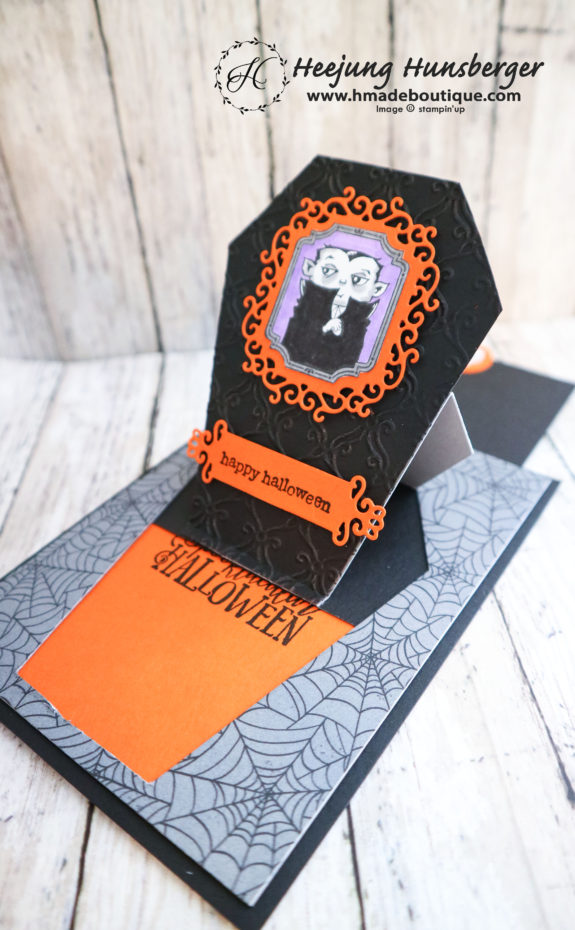 I had Coffin slide pop-up tutorial request by few people who saw the pictures from pinterest.
This coffin shape isn't easy to make, so many of people wondered how to make it.
I decided to upload this post. and I hope you are all understand of my tutorial and since English isn't my first language, it isn't enough some area to understand.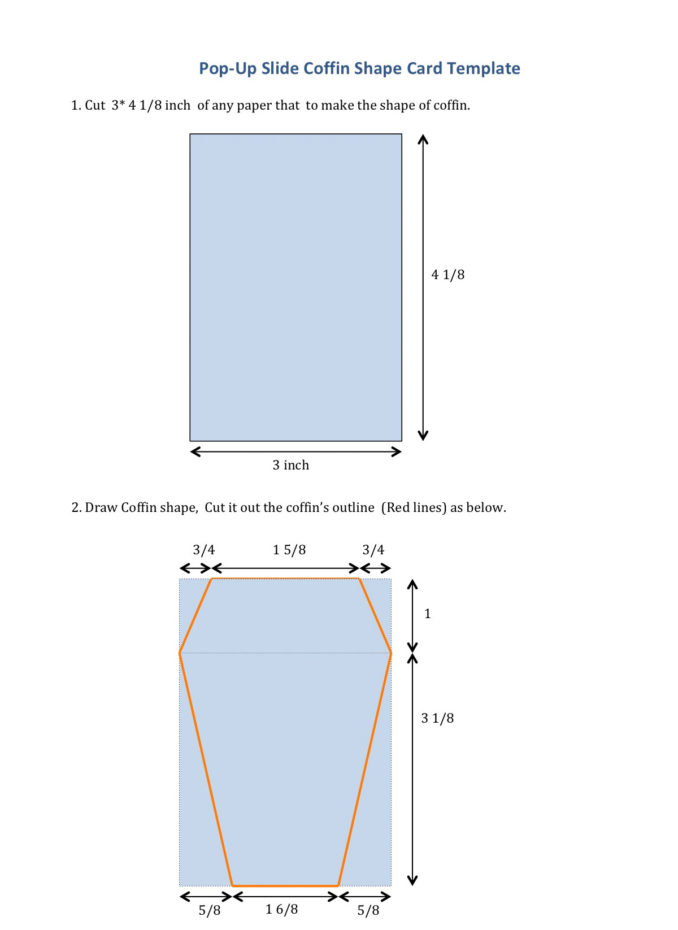 Before you make this slide pop-up card,  you need to make a coffin shape.
All details are on the above.
I used one of leftover paper from other project. You can cut it out with scissor or paper trimmer.
How to make Sliding Pop-UP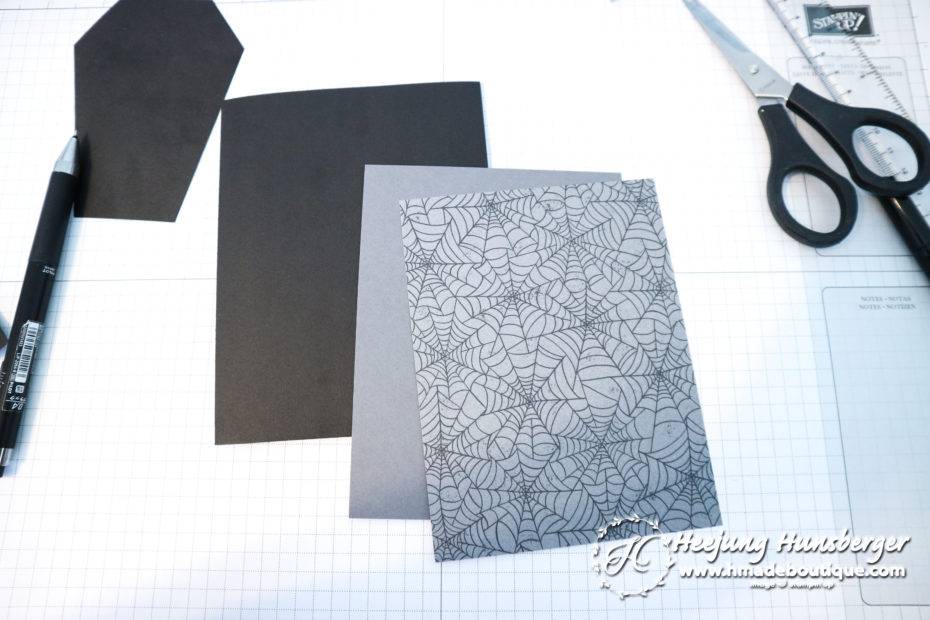 Card base-Black- 5 1/2 * 4 1/4 
Designer Paper & Basic Gray-5 1/4 * 4 
Used Coffin Template and Cut out  Black Coffin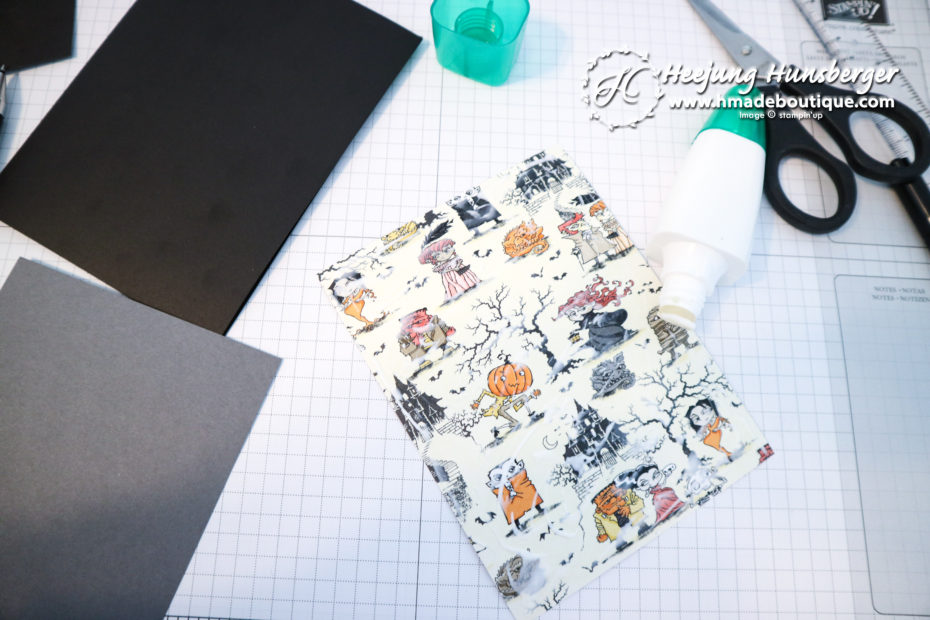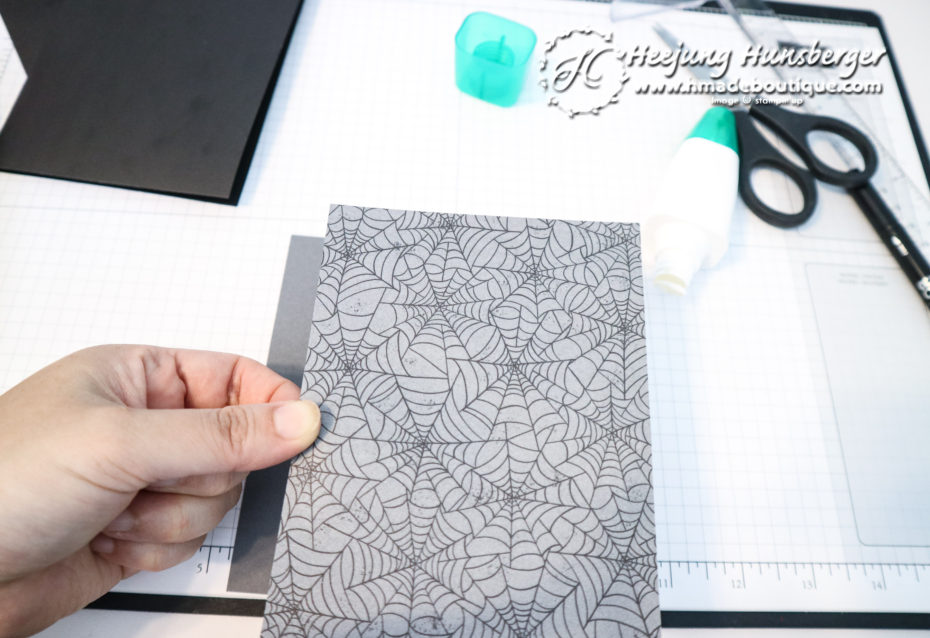 Adhesive  designer paper to basic gray card stock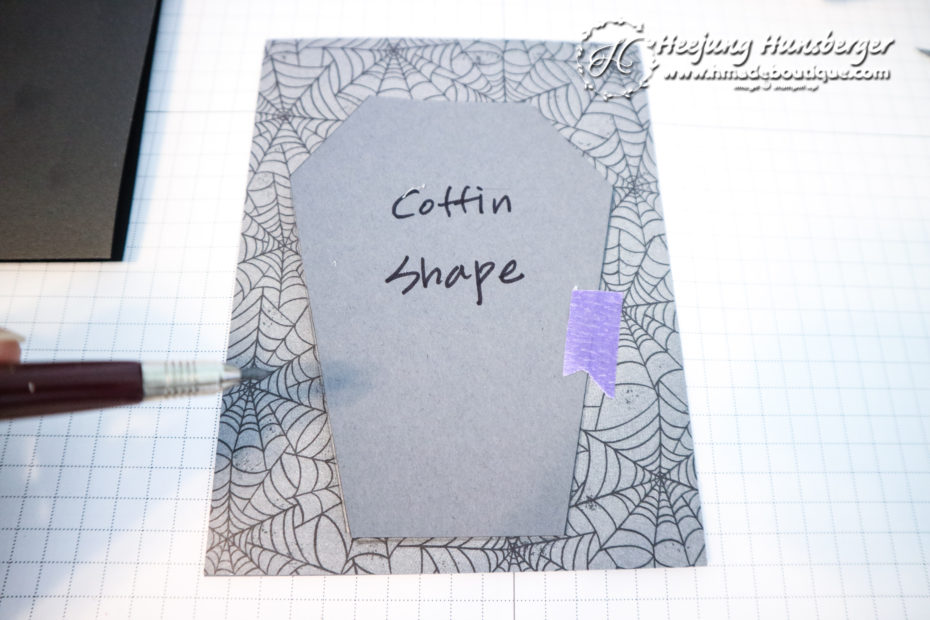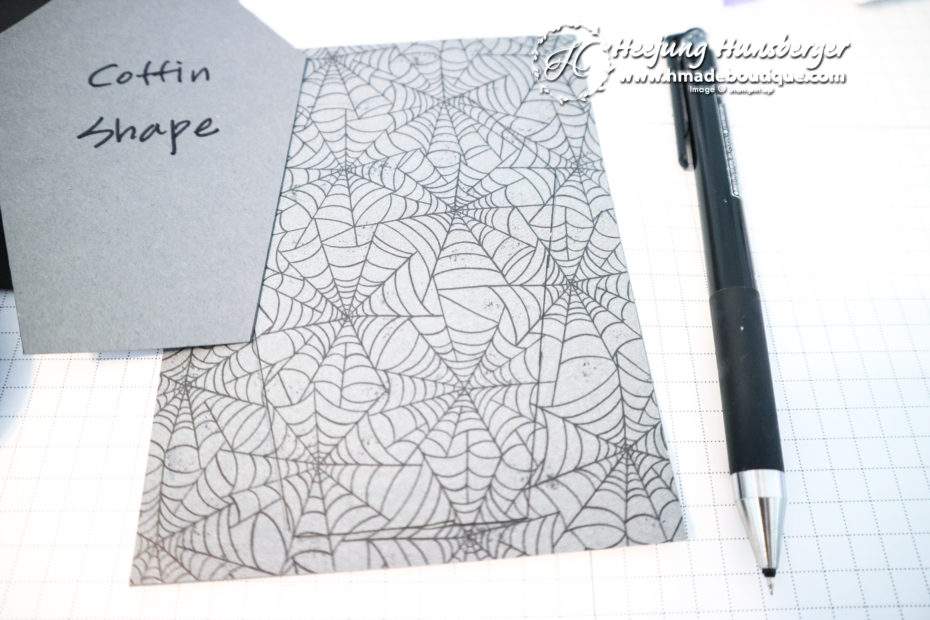 Draw outline using coffin template on the prepared designer paper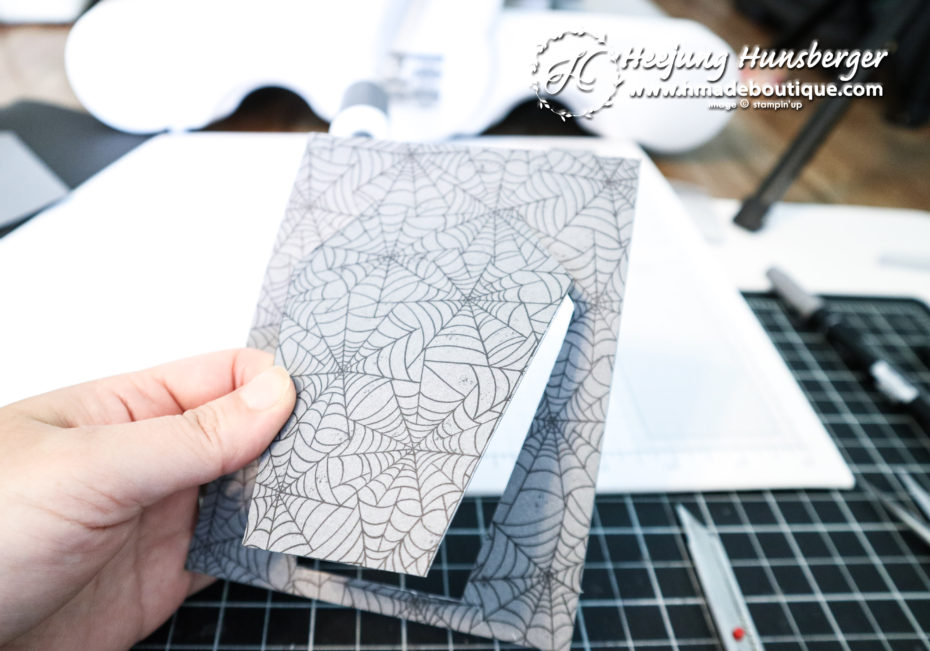 Cut out coffin shape with scissor or paper trimmer whatever you prefer to cut it.  *

* important- do not cut top part of coffin

.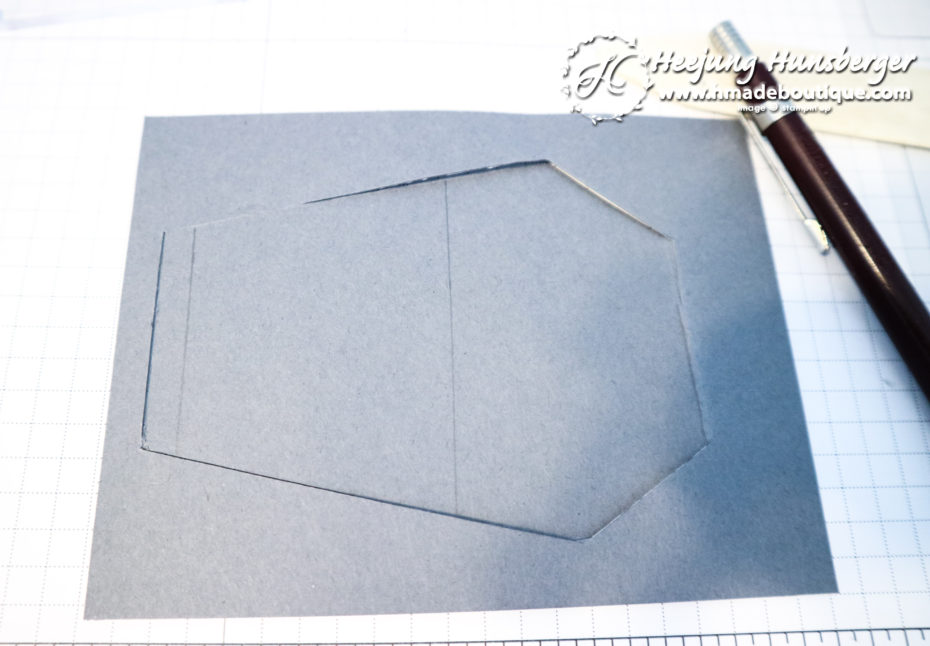 Reverse paper- and mark lines for fold.
1/4  and 2 1/4 bottom part of coffin.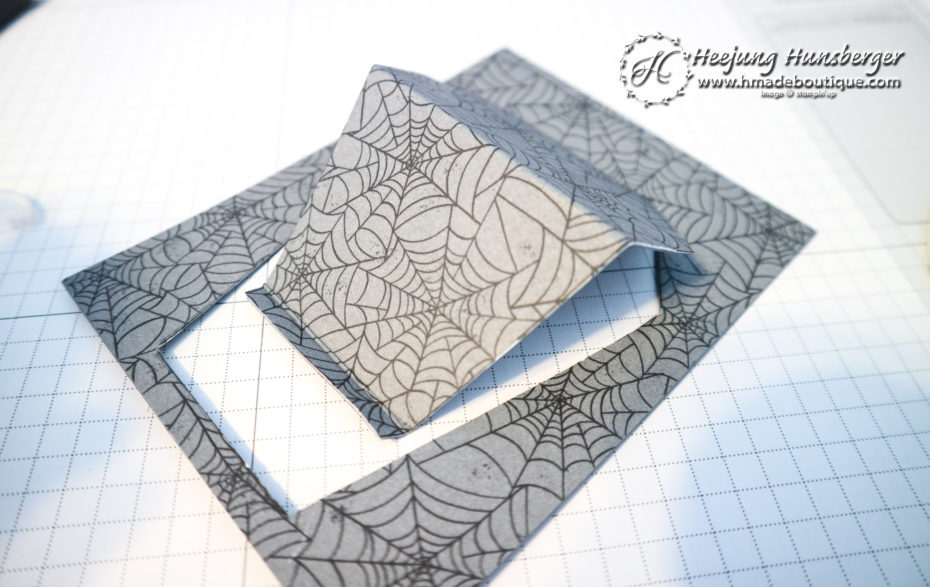 Fold it as above picture.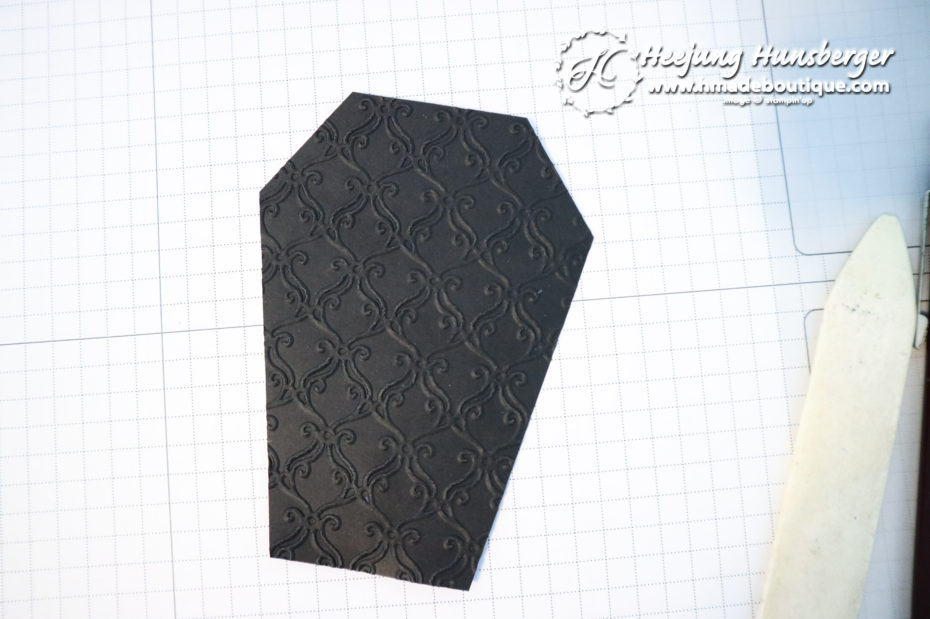 Using "Stylish Scroll Embossing folder" to embossing on coffin shaped  black card stock.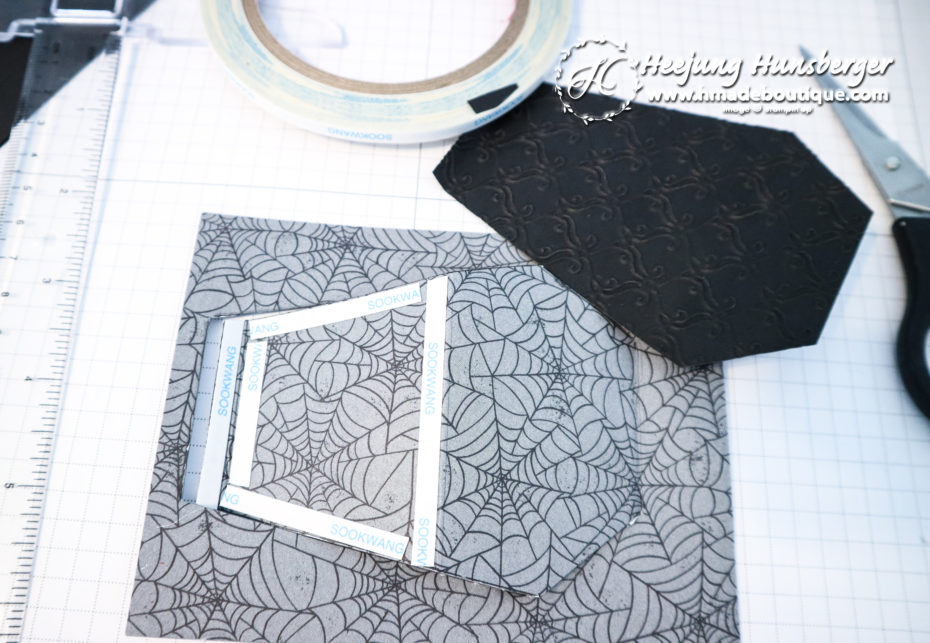 Adhesive  a coffin cover on the slide popup base as like above picture. * when you adhesive the coffin, please make sure that only half of coffin (bottom of coffin) not whole of coffin cover.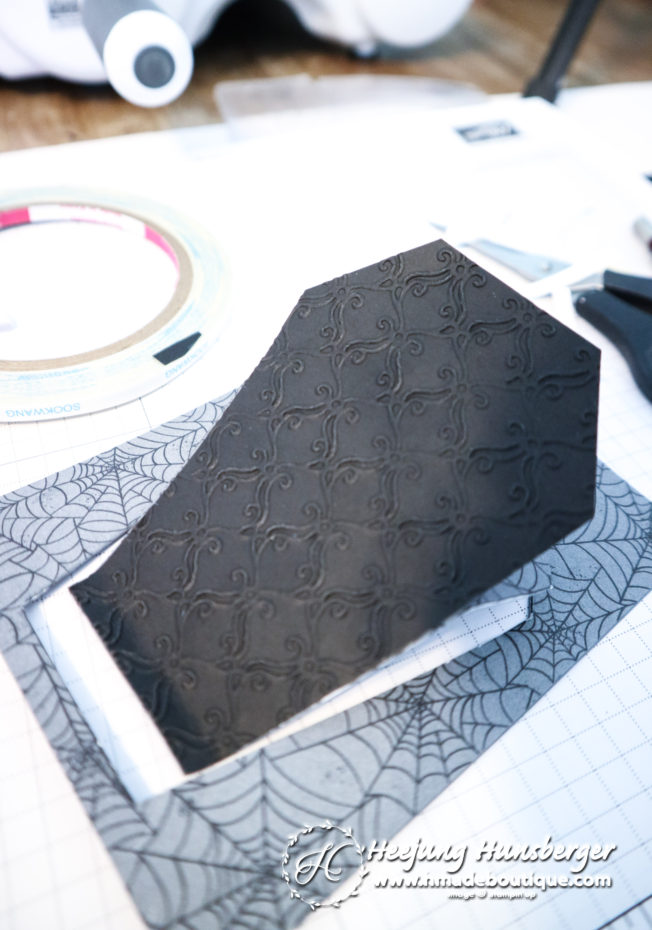 You can see clearly when you adhesive the coffin cover on the base.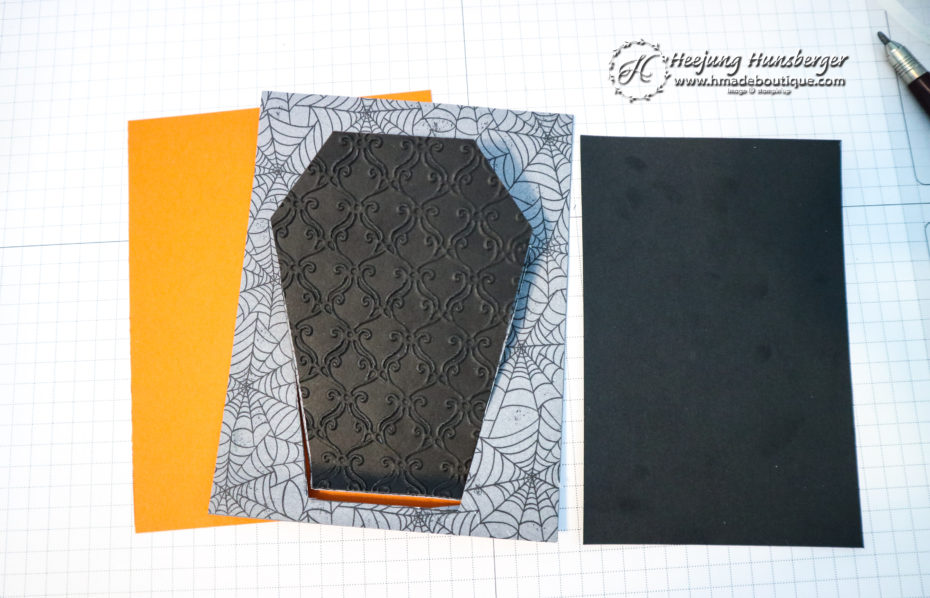 To make sliding pop-up, you also need another paper for the pull out part of paper and pumpkin pie cover card stock for inside of coffin part.
Pumkin pie color paper- 5 1/4* 4
black puller paper –  3 2/8* 5 inch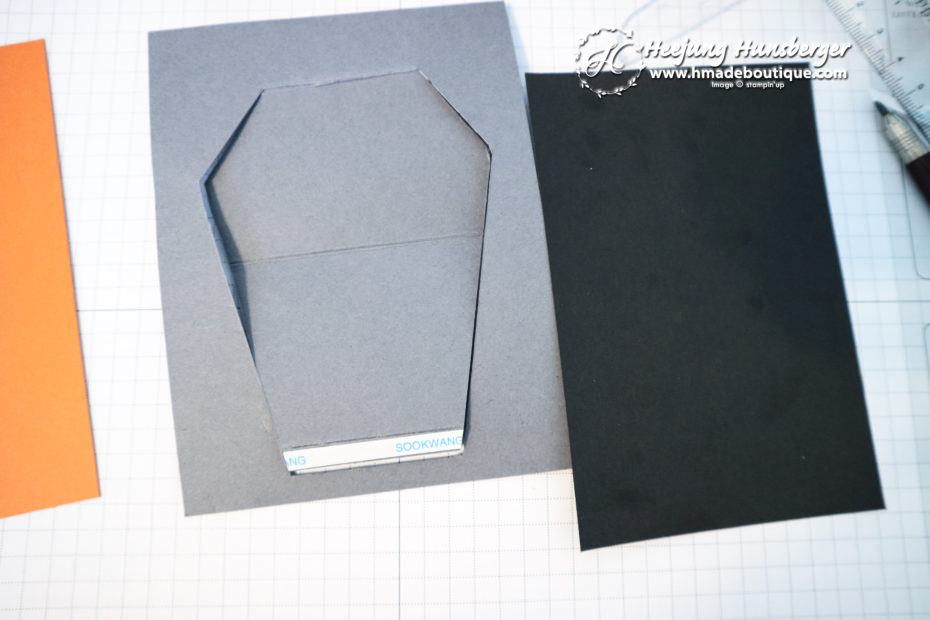 This black puller paper is a key of slide pop-up card to open the coffin.
adhesive double-sided tape of edge of coffin's bottom and black paper's edge.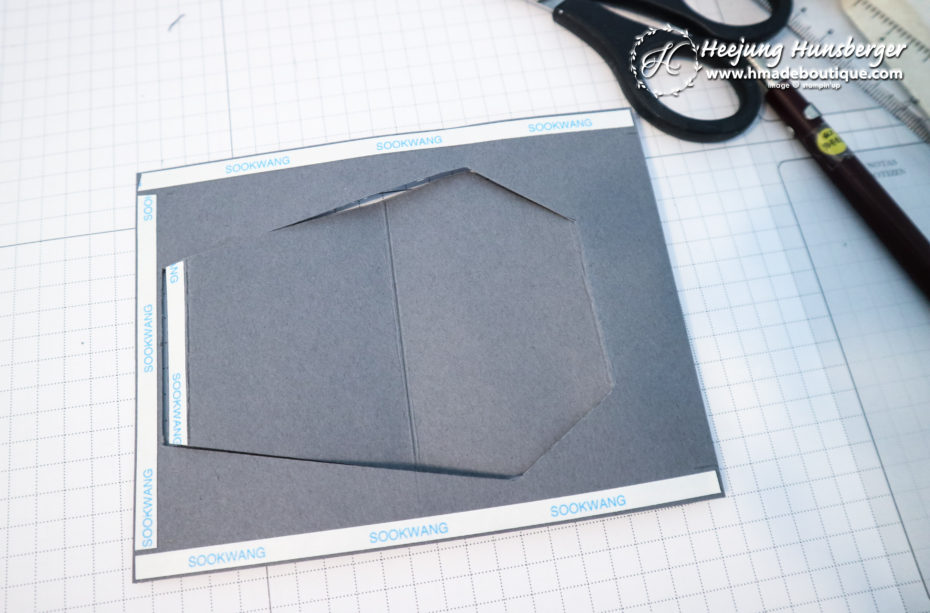 I used double side tape on the slide pop-up base because it is easy to slide paper and strong.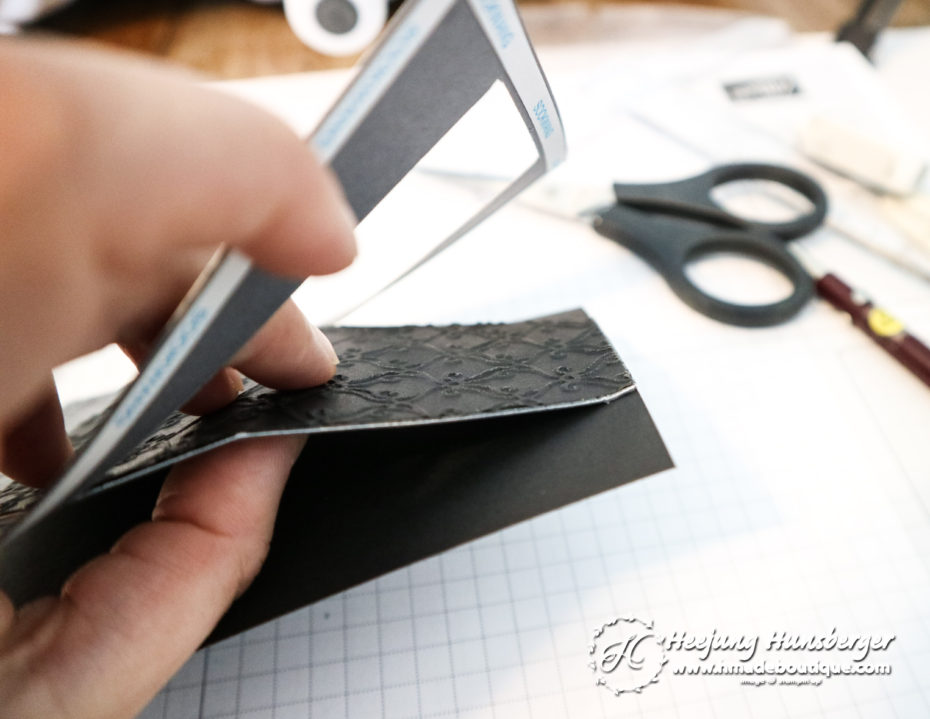 when you adhesive black puller paper on the coffin shape, please make sure both end should be fit perfectly.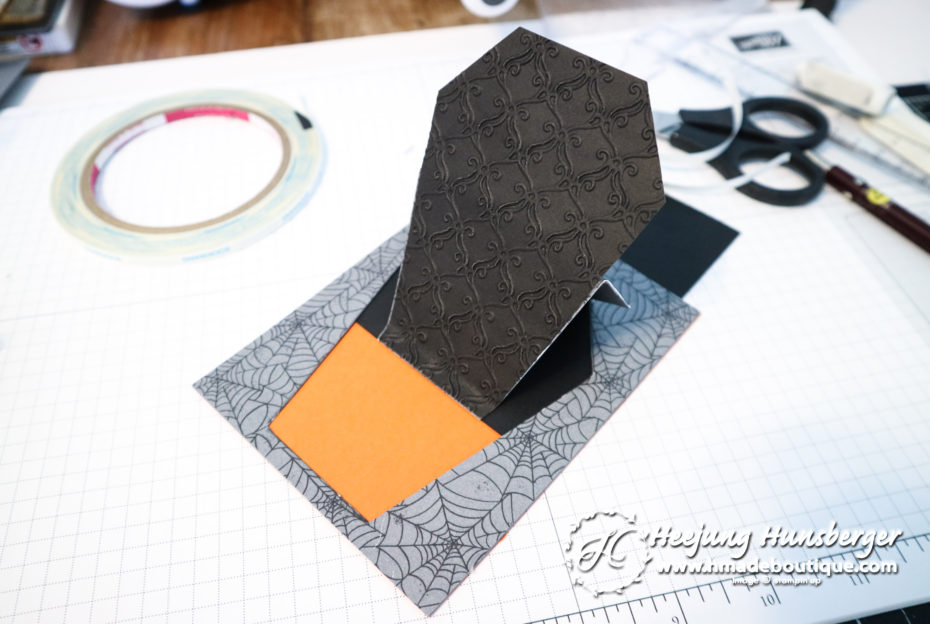 After adhesive the black paper on the coffin, cover it up with pumpkin pie card stock, when you pull out the black paper you can see pumpkin pie color on the bottom.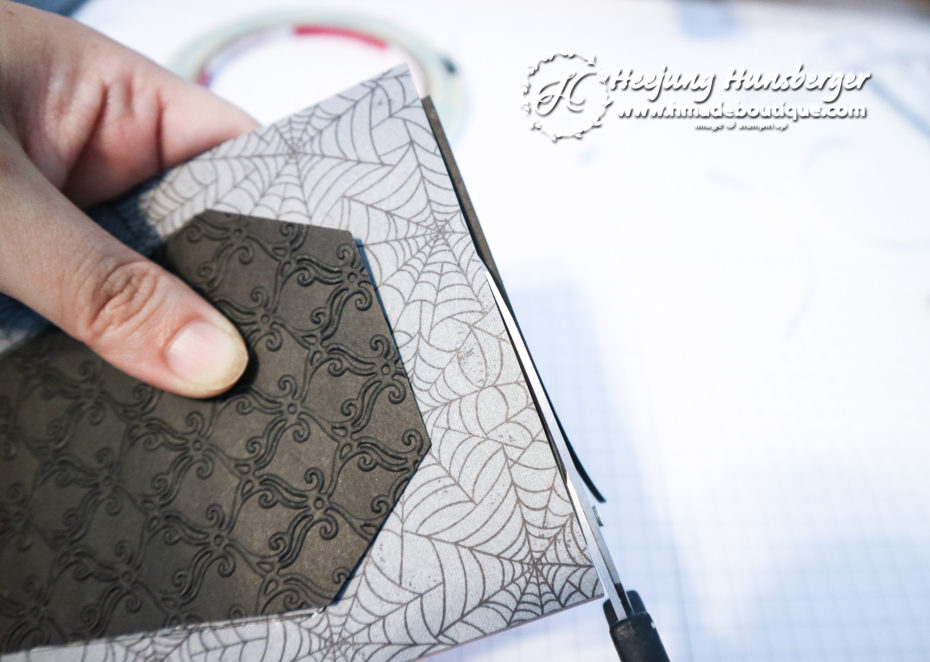 If the puller is too long, please cut out with scissor.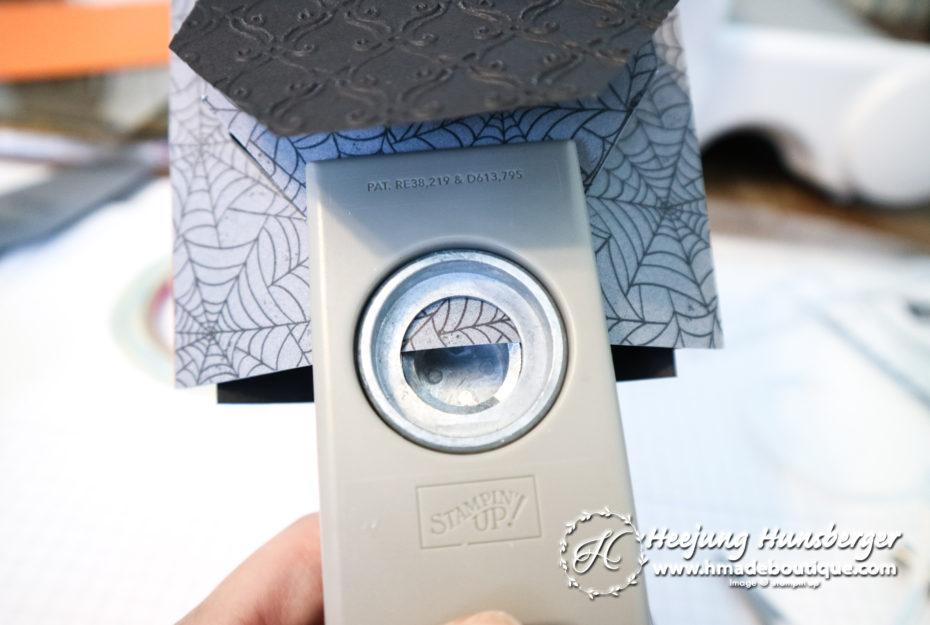 To make easy to pull out black paper, using 3/4" circle punch to punch half circle on the middle of designer paper as above.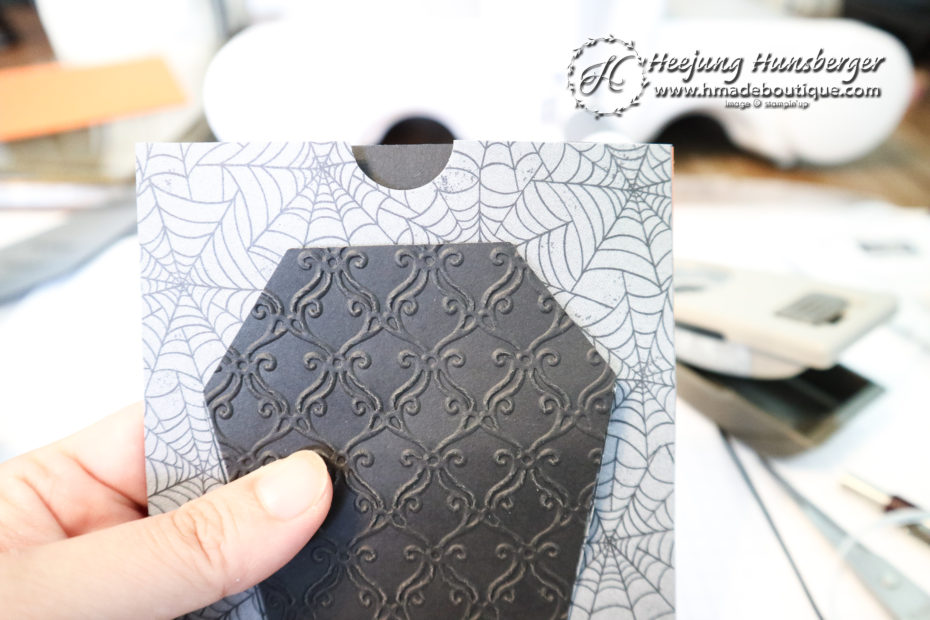 when you punched half circle, you can black puller paper.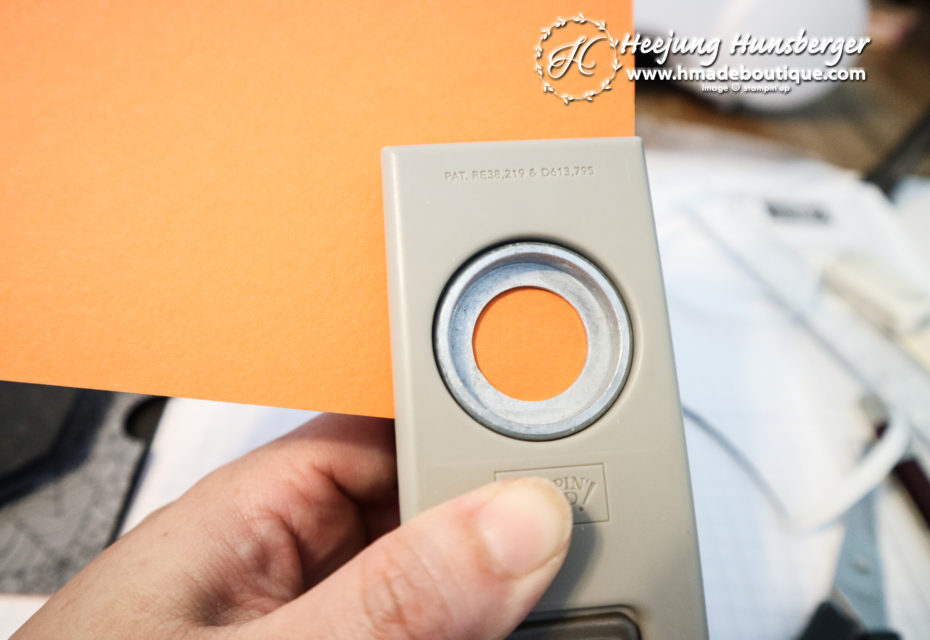 Punching 2 more circle with 3/4" circle punch to decorate black  puller  paper.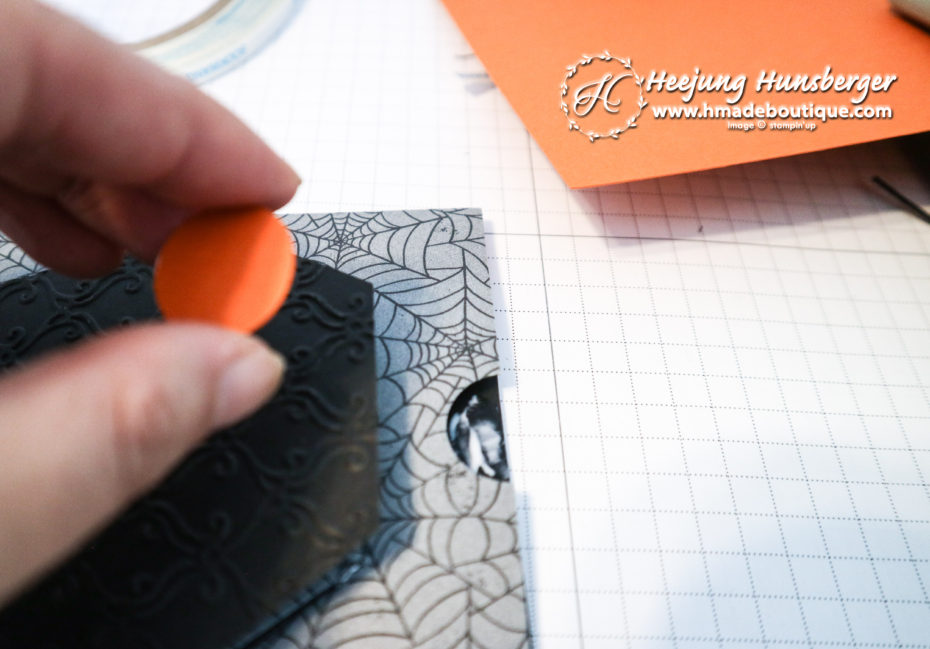 when the black puller isn't pulled, glue the half circle and put the pumpkin pie color circle on top.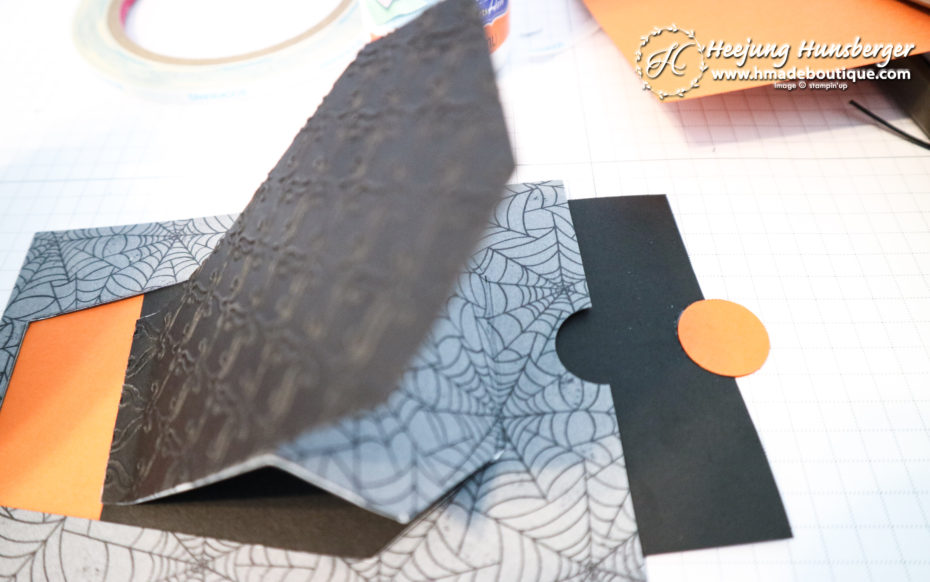 After glue the circle on the puller, you can pull circle part to open up the coffin.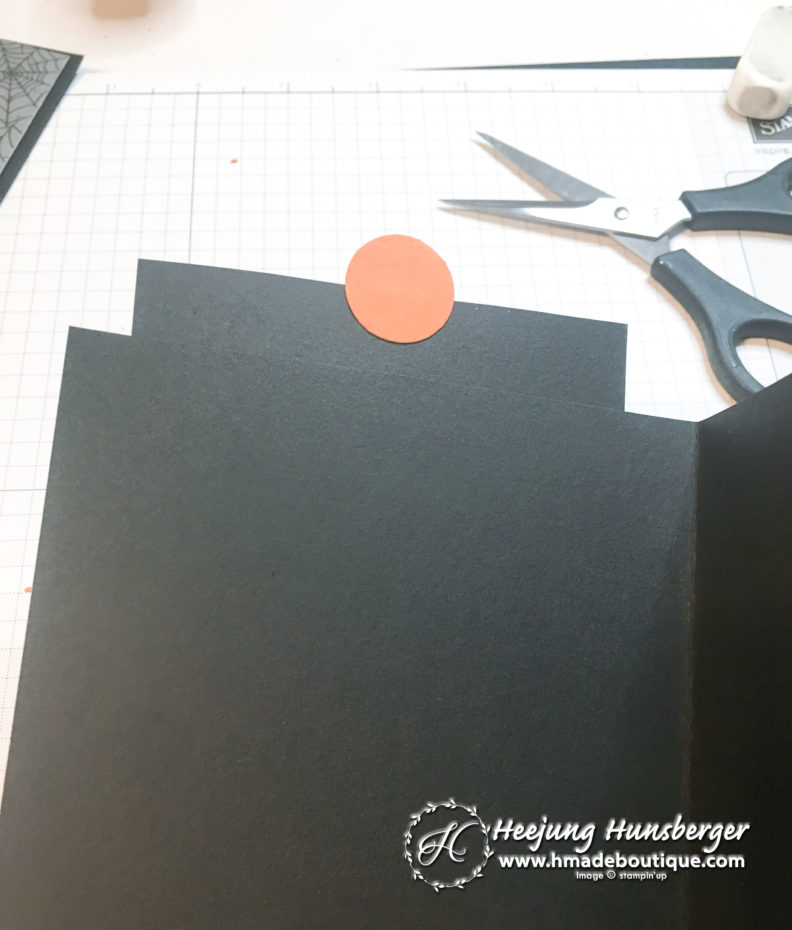 Remained one circle, you glue it and attached it other side of puller.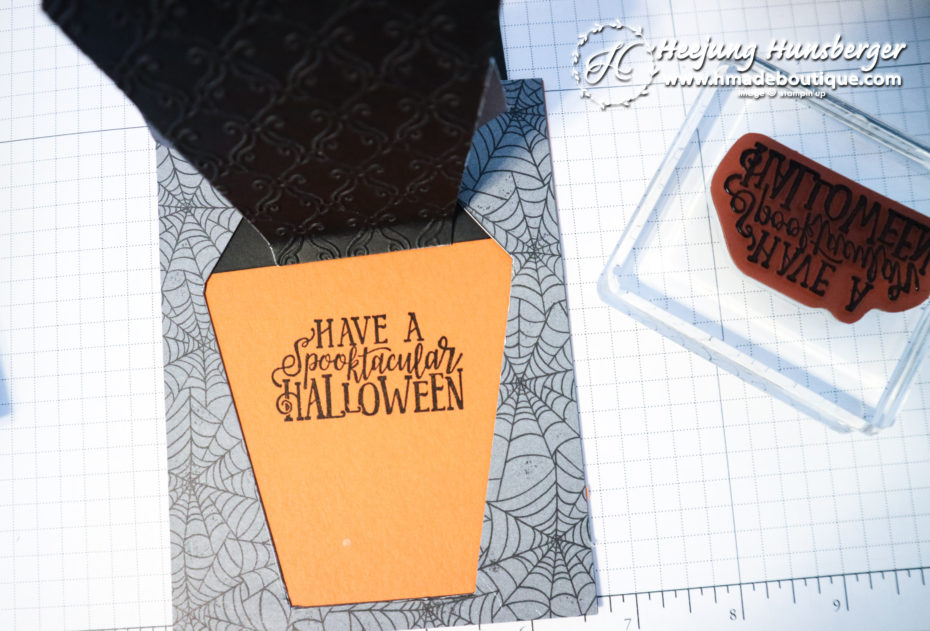 Stamped sentiment inside of coffin.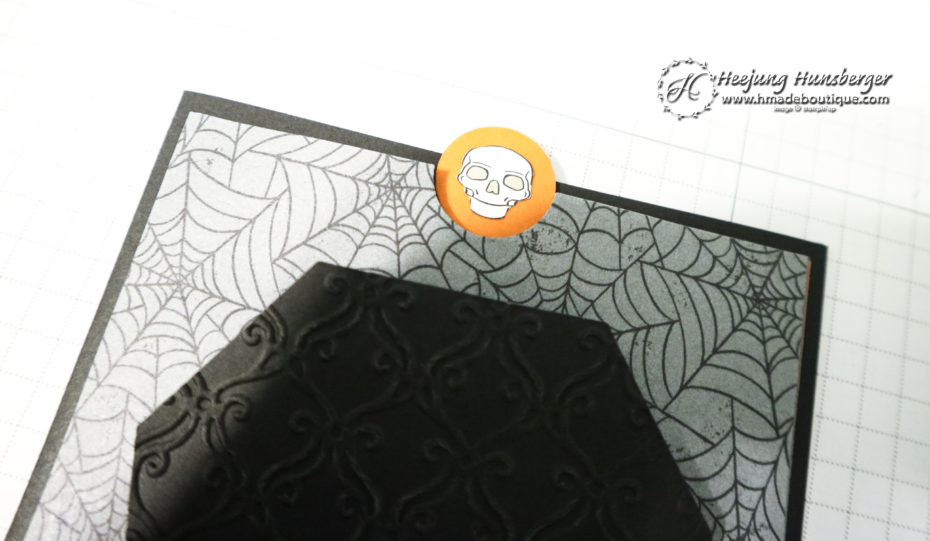 Cut the skull out from designer paper to decorate puller button.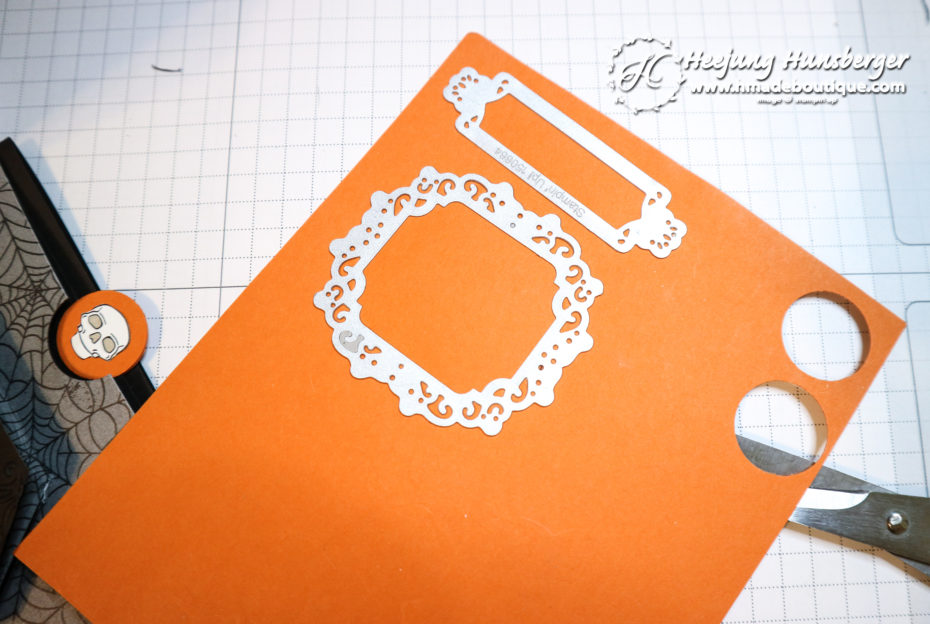 Die cutting two shapes for the sentiment and decorate card.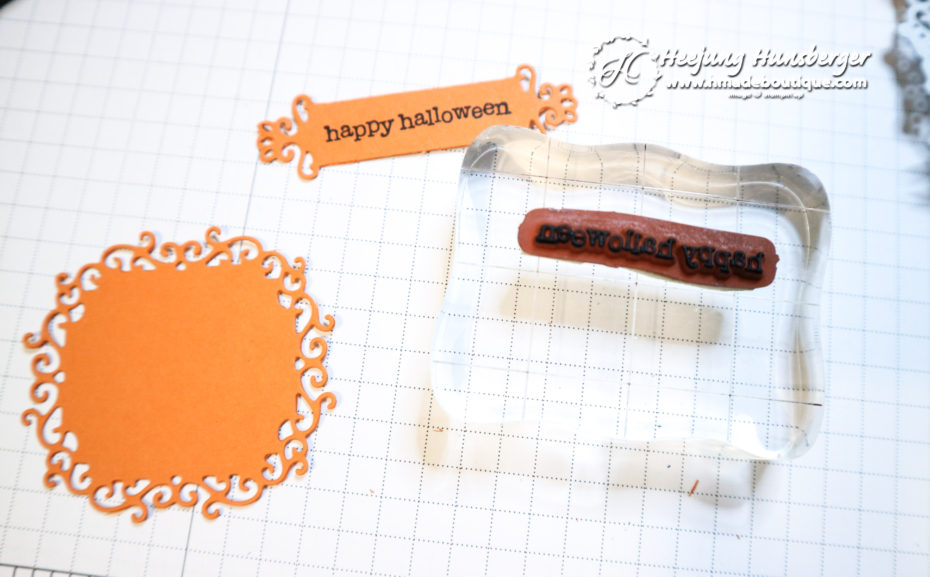 Stamp the sentiment on the die cut. -used Teeny tiny wished stamp set.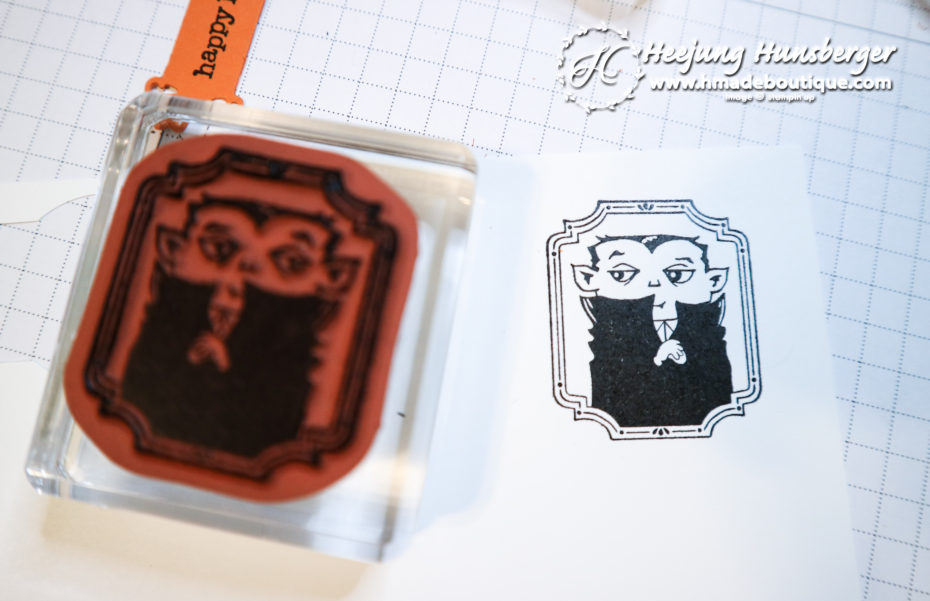 Stamp the image and coloring with blenders.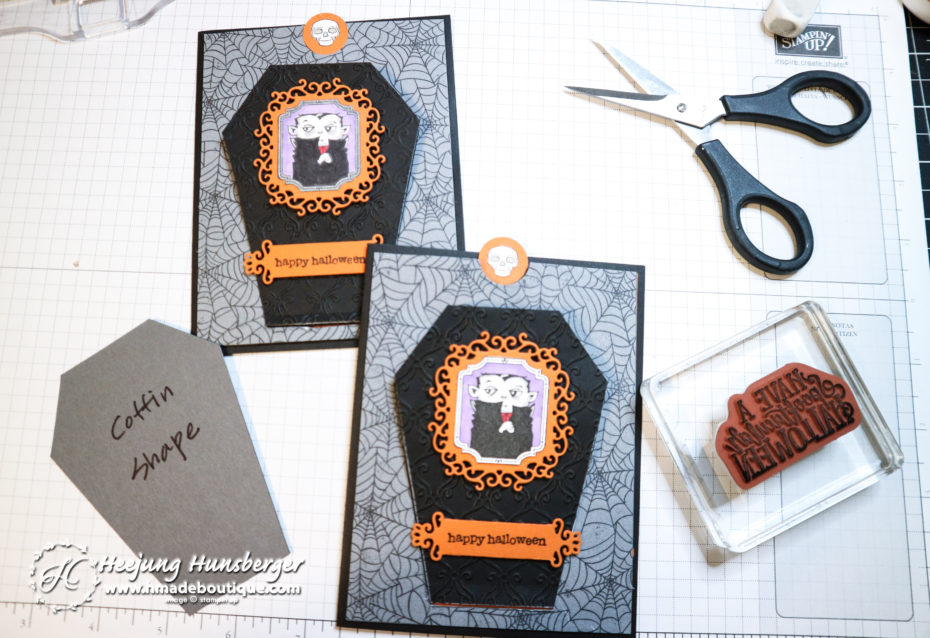 This is finished look of coffin slide pop-up card.
It looks so complicated but if you try to make one first and the second one will be really easy to make it.
Thank you for stopping by and hope you like my tutorial.