Bookmark Cards | DIY Bookmark | Thank You | Birthday Card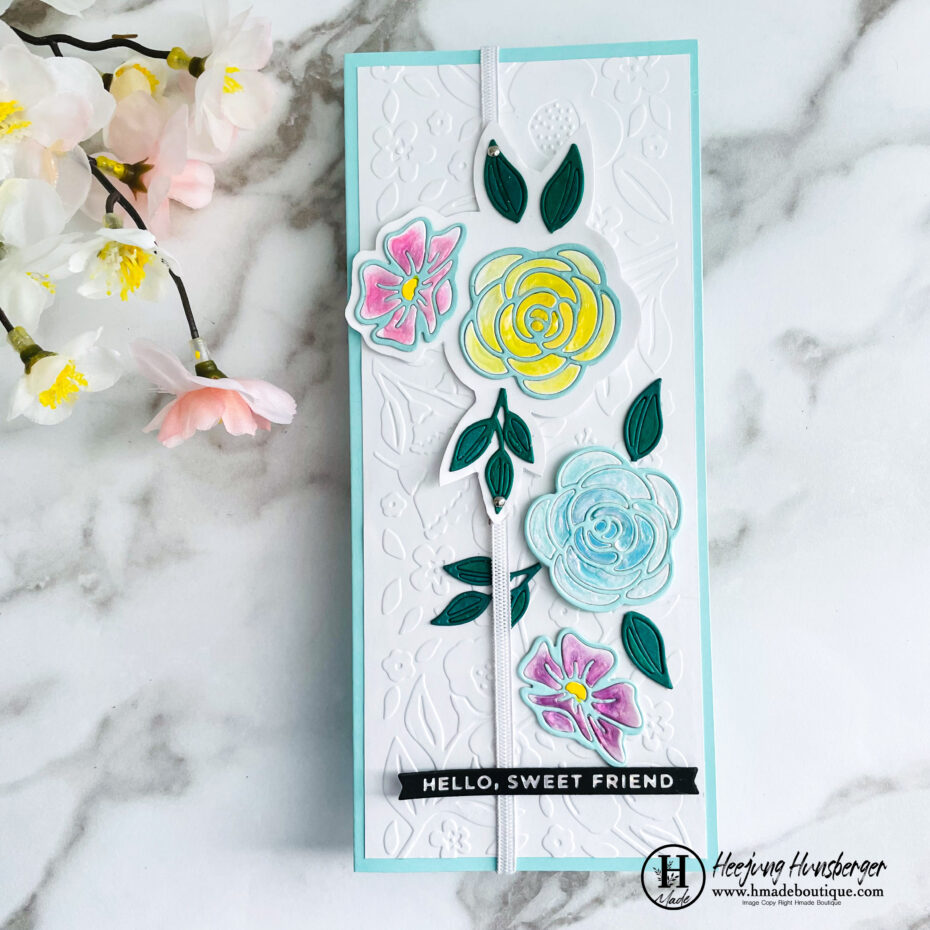 Hello, friends,
I wanted to make a bookmark someday but I always lose any bookmark, because an ordinary bookmark is easy to fall out of. 
However, I finally have an idea that uses elastic strings to keep it with the book.
I made these three different designed bookmark cards using a variety of dies and stamp sets. 
I think the bookmark's elastic should be long enough to hold the books, so I match the slimline card with it.
1. Sketched Florals & Frames Die Bookmark Card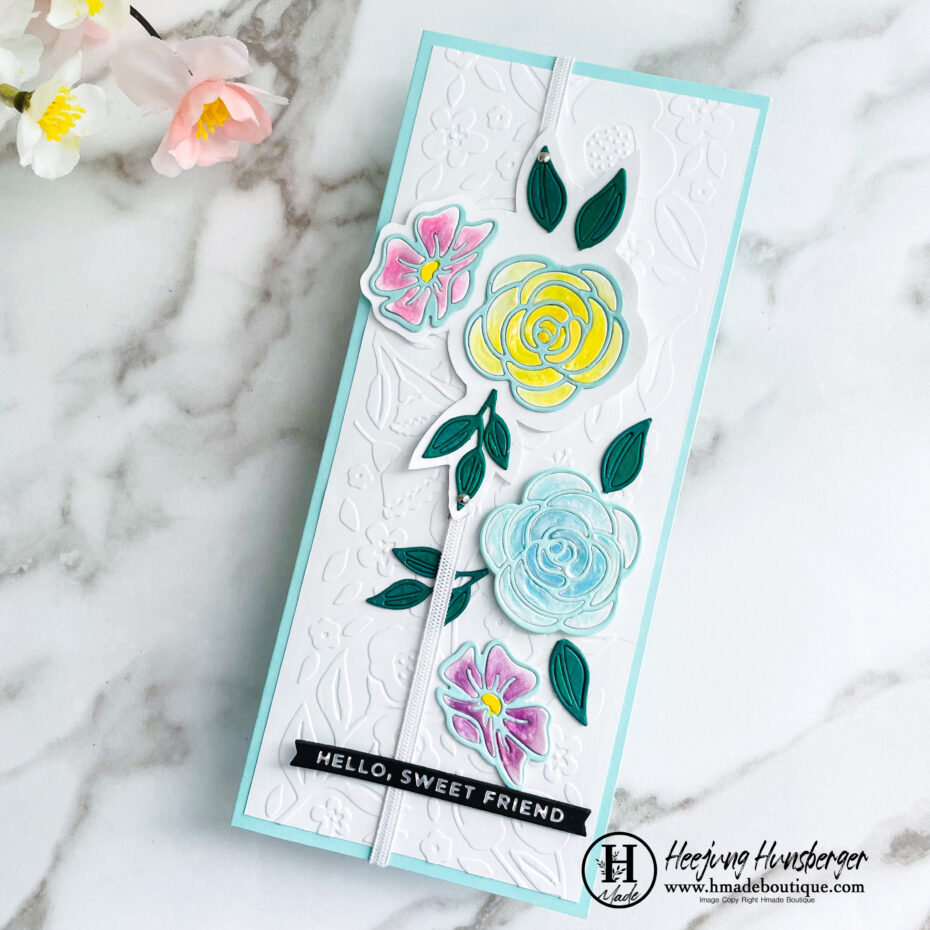 I used the Sketched Florals & Frames Die from Spellbinder.
This die set is one of the small die clubs of the month last year. But I was too busy to make Christmas cards. 
Finally, I had a chance to use this die set and I love the result.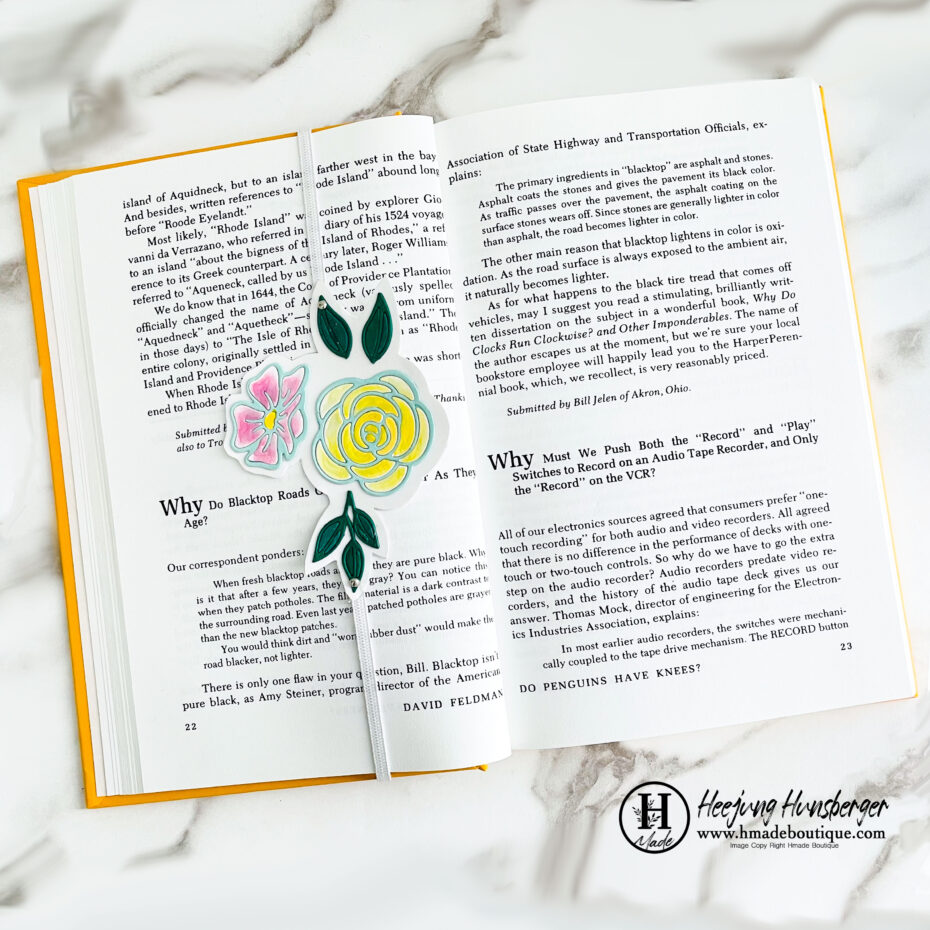 You can see how nice look of the bookmark on the book.
I want to make a bookmark for my cookbook. Because it is hard to keep books open.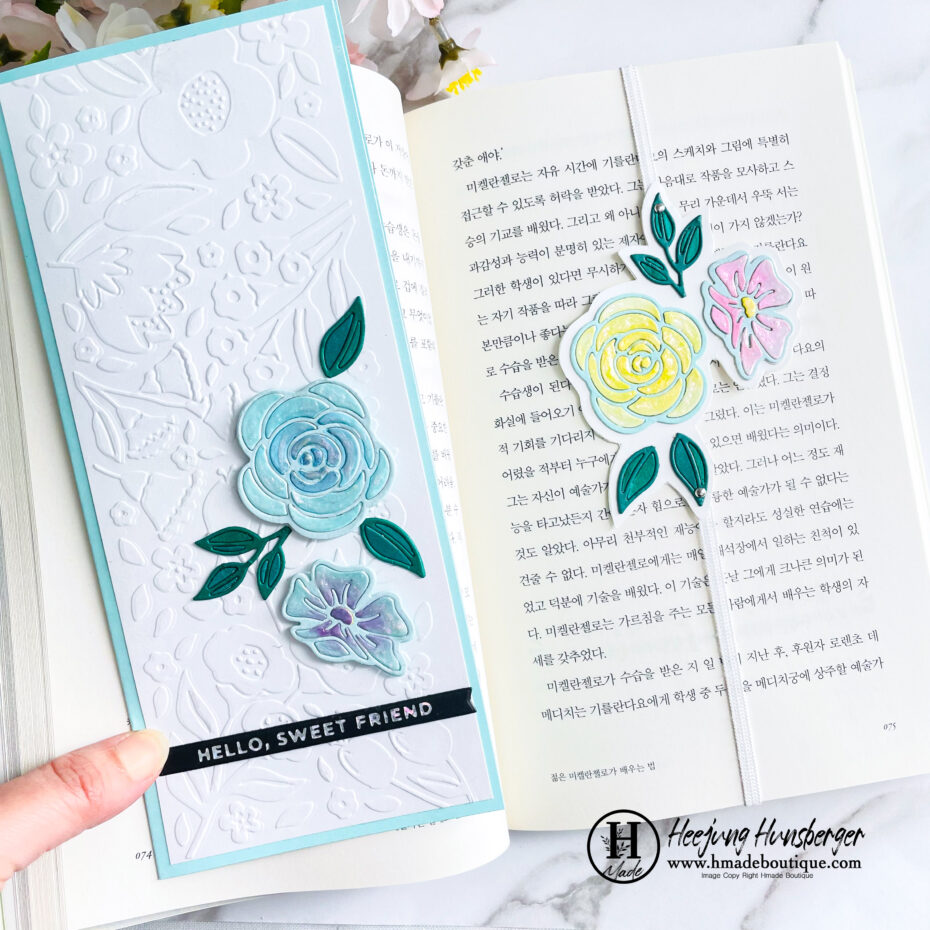 I didn't want to empty the sad-looking card after the bookmark was removed. So I added some of the flowers to the card.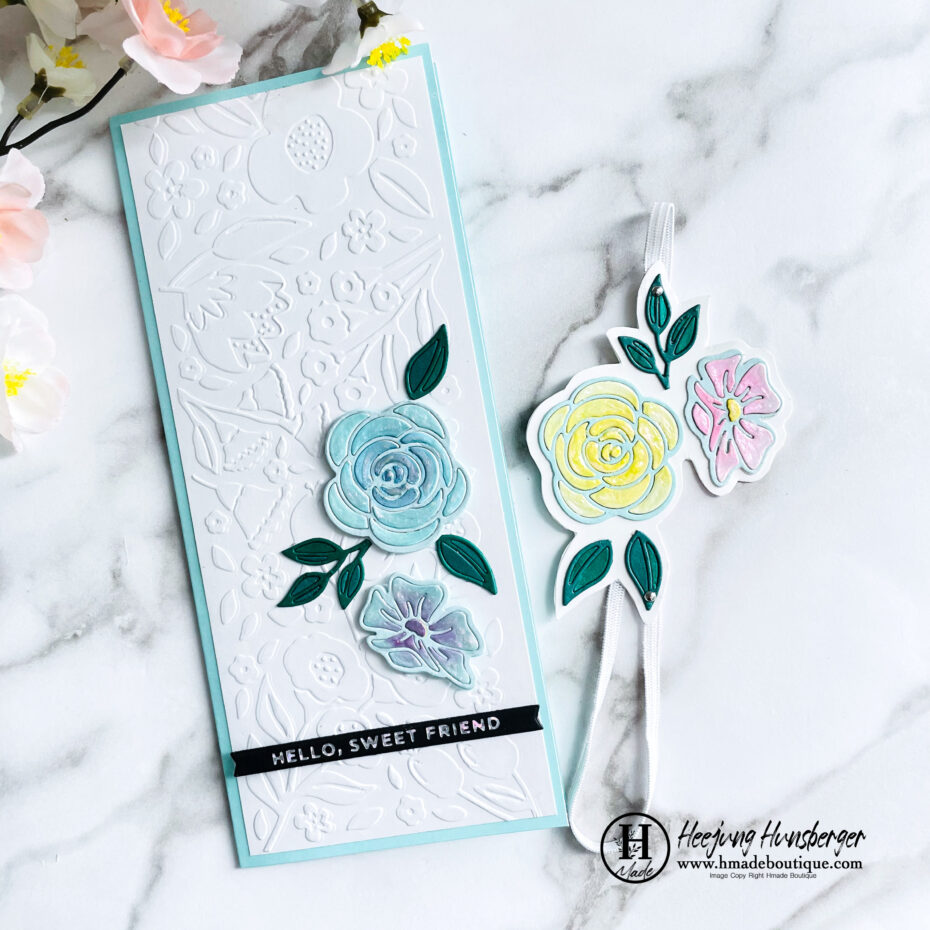 I think this card and bookmarks idea would be a very unique gift idea for many card-makers.
Dies
Embossing Folder
Hot Foil Plate
If you want to know how to make the bookmark card, you can click the Tutorial link above.
2. Sweet Blooms Border Bookmark Card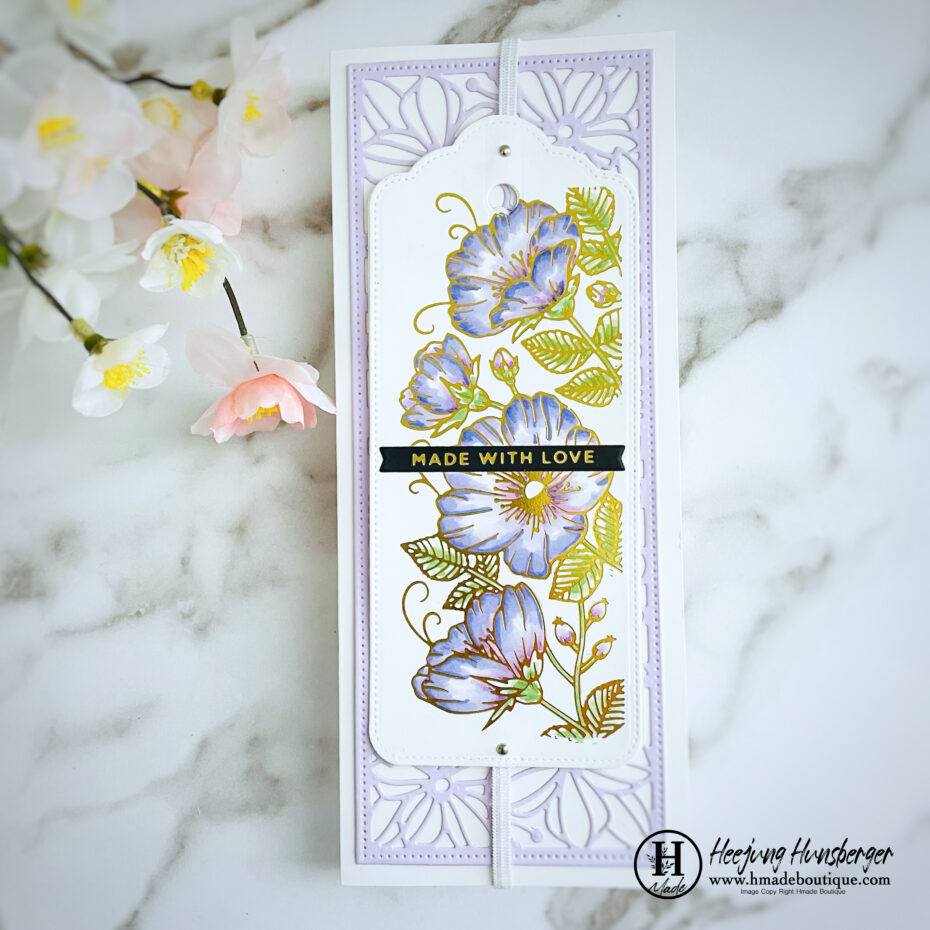 I tried to make a bookmark card using the Sweet Blooms Border Hot foil plate.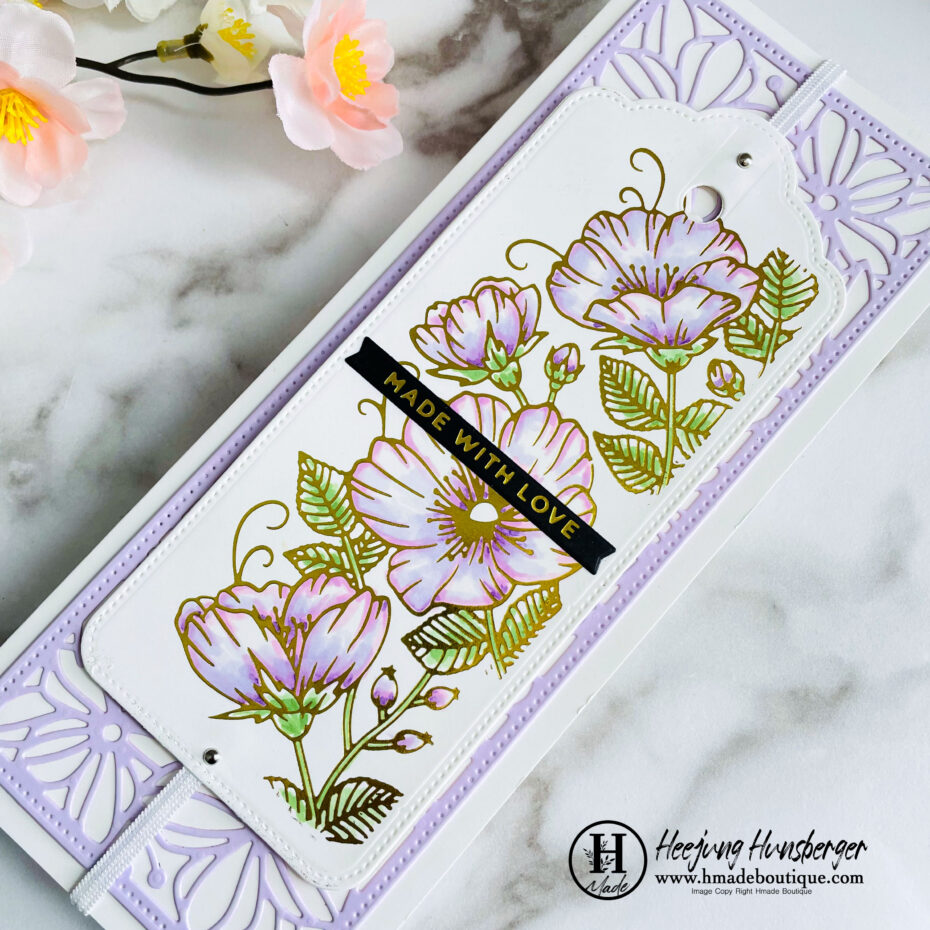 I used a tag die from Crafty Meraki. This die is really perfect for the bookmark.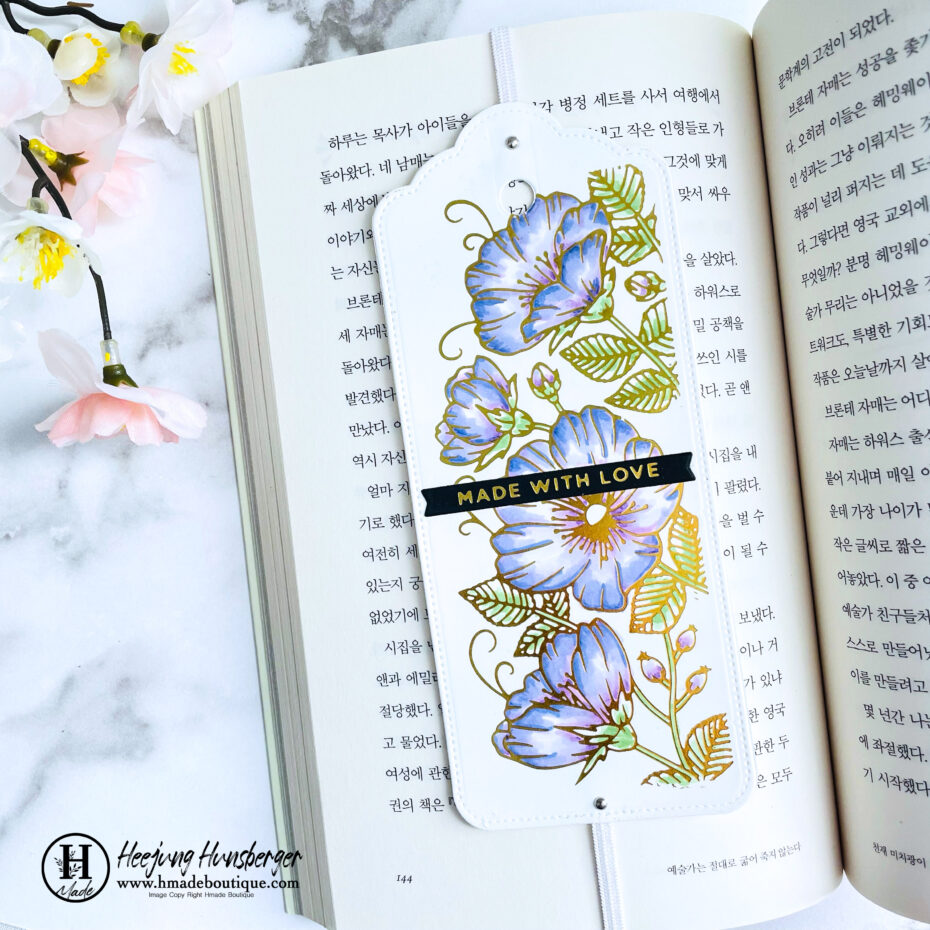 You can see how perfect look of this bookmark with the book.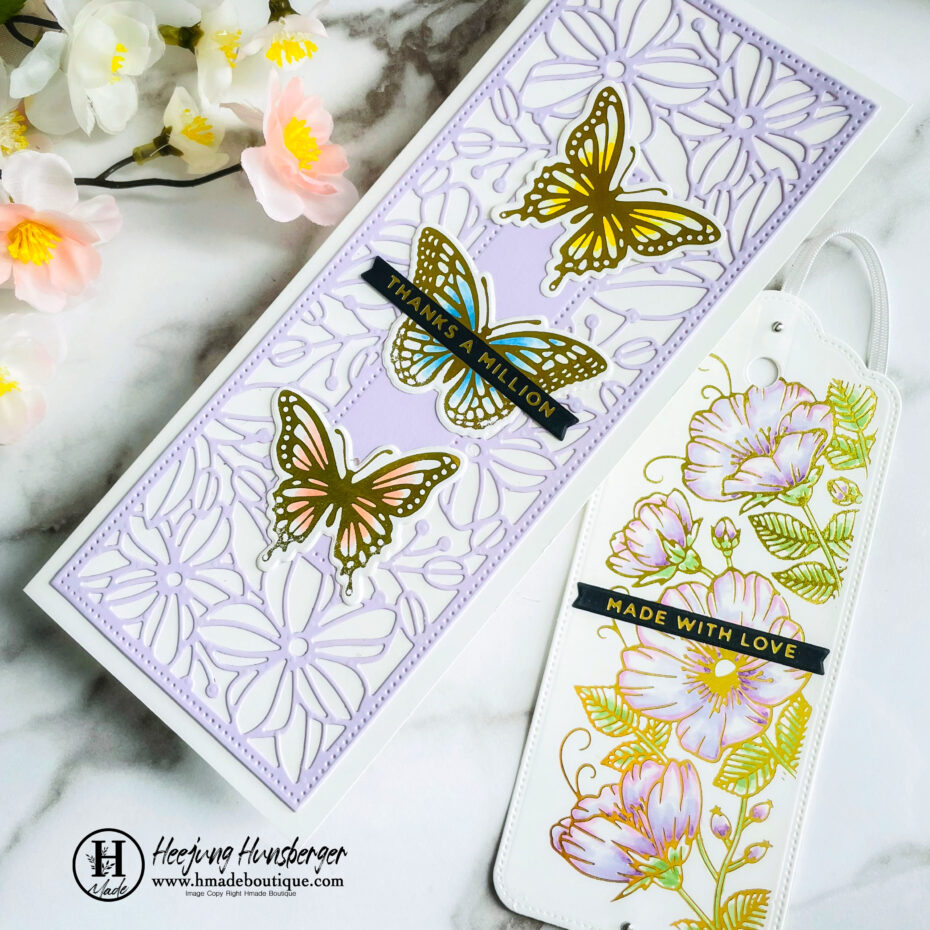 Hot Foil Plate
Sweet Blooms Border Hot foil Plate @Spellbinder
Mini Everyday Sentiments Hot Foil Plate & Die Set @Spellbinder
Glimmering Butterflies Hot Foil Plate & Die Set @Spellbinder
Dies
3. Floral Panels- Peony Die Bookmark Card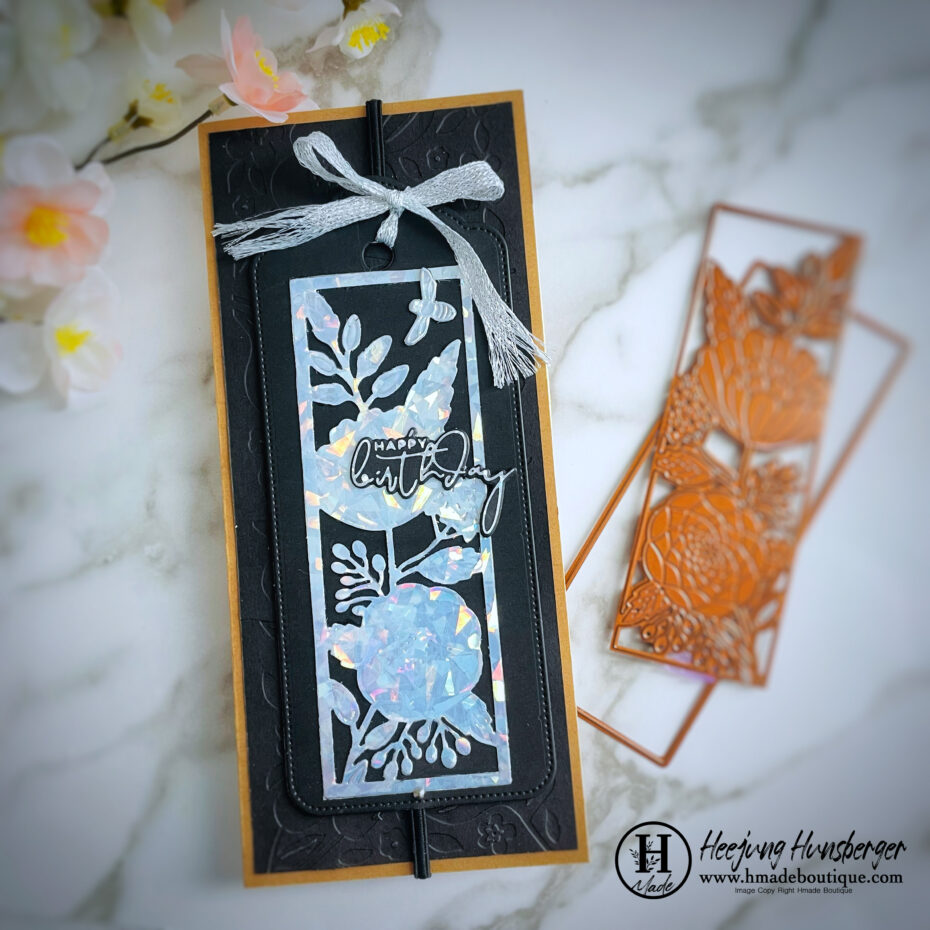 Some of you have already seen this mother of pearls (Using the holographic paper) design of the card before. I applied the same style of design to this bookmark card.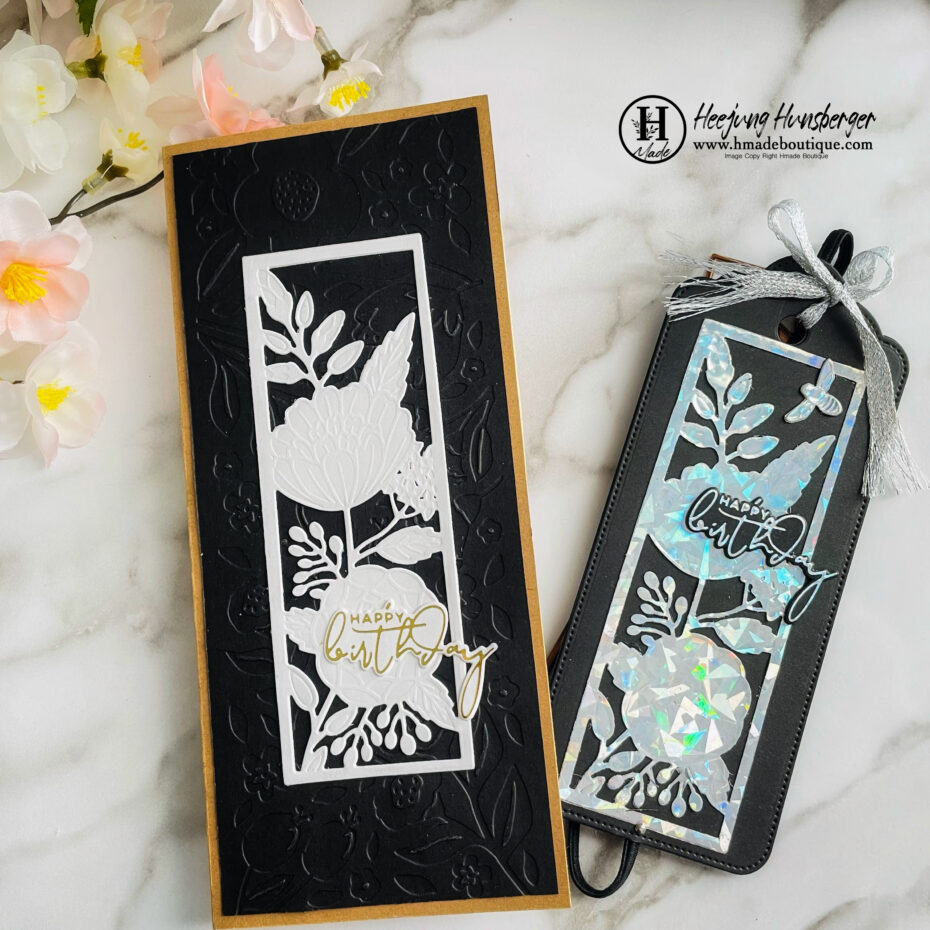 This card is much easier for beginners because no coloring is involved.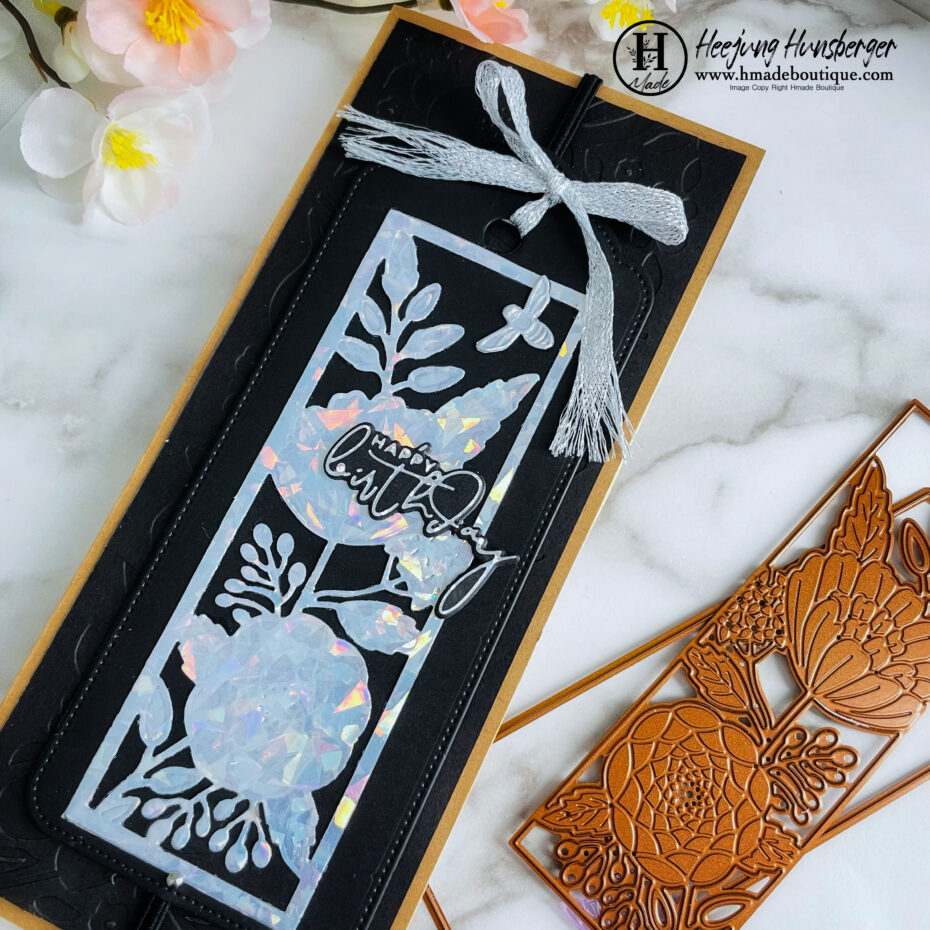 Dies
Floral Panels-Peony Die @Creative Expressions
Love Slimline Tag Dies @Crafty Meraki
Embossing Folder
Slimline Flora Embossing Folder @Spellbinders
Hot Foil Plate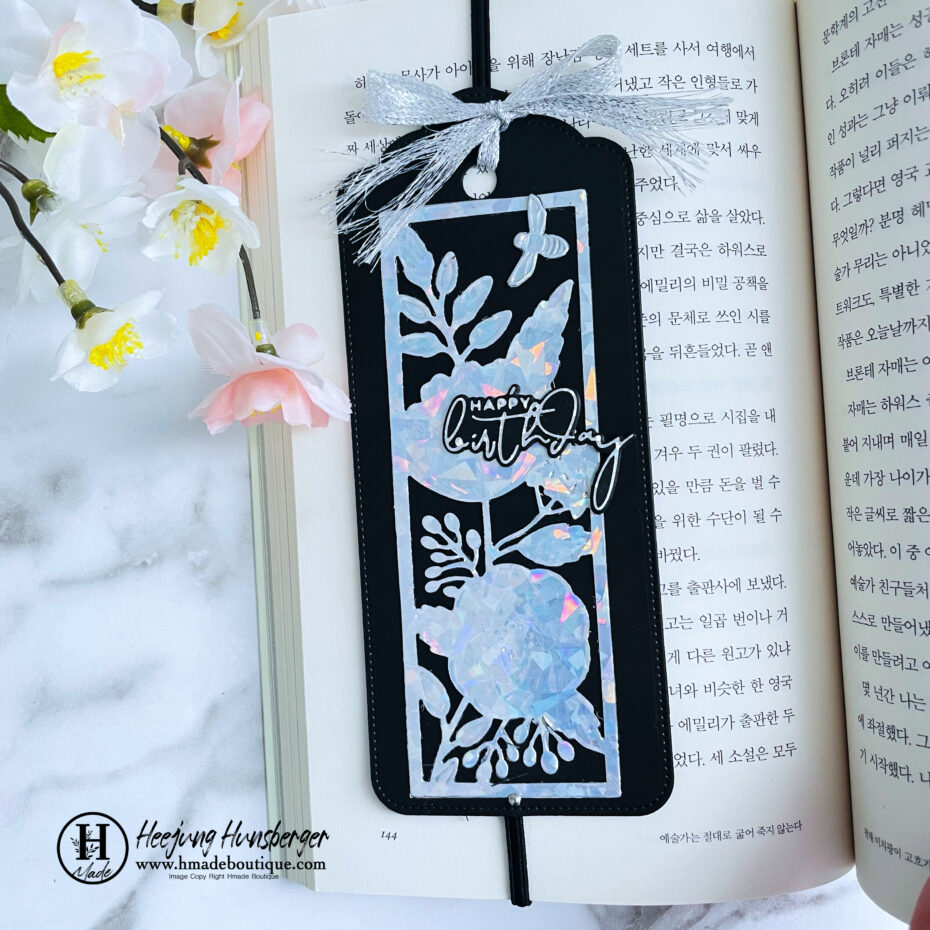 Is it beautiful?
I used leftover black elastic from face mask making.  I had so much hard time getting any elastic two years ago to make a face mask. I couldn't believe it it was two years ago already and hope we don't have to wear a face mask in public anymore.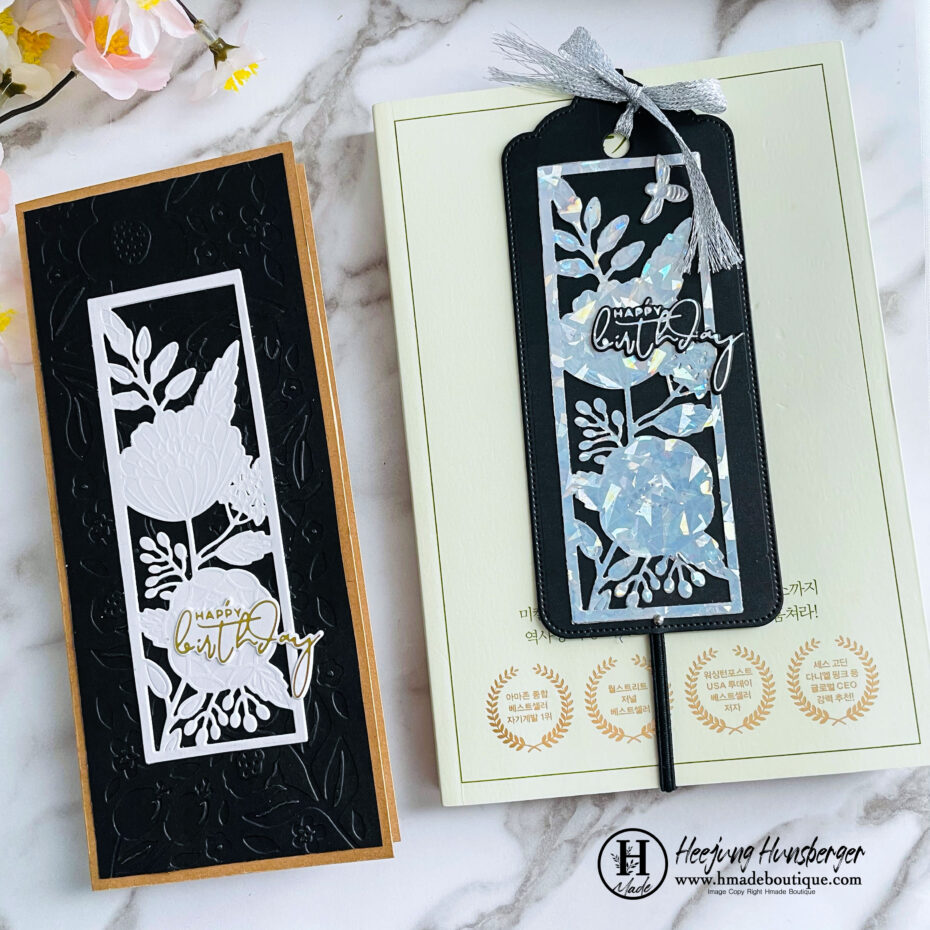 I made a Thank you card, Birthday, and friendship card using the same bookmark idea.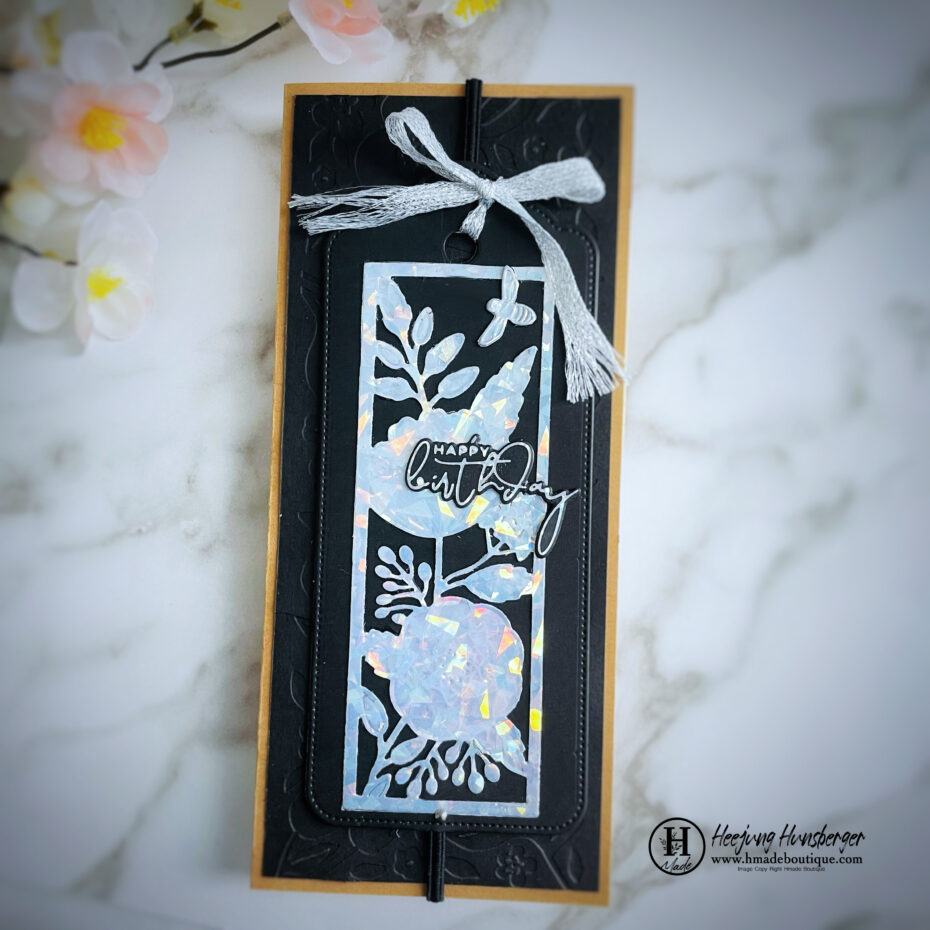 You can make any occasions card using the same style too.
I need to make a bookmark for my cookbook, so I need to find the matching themed stamp set or die for it.
Happy Stamping!
Thank you for stopping by!